Flying With Your Pet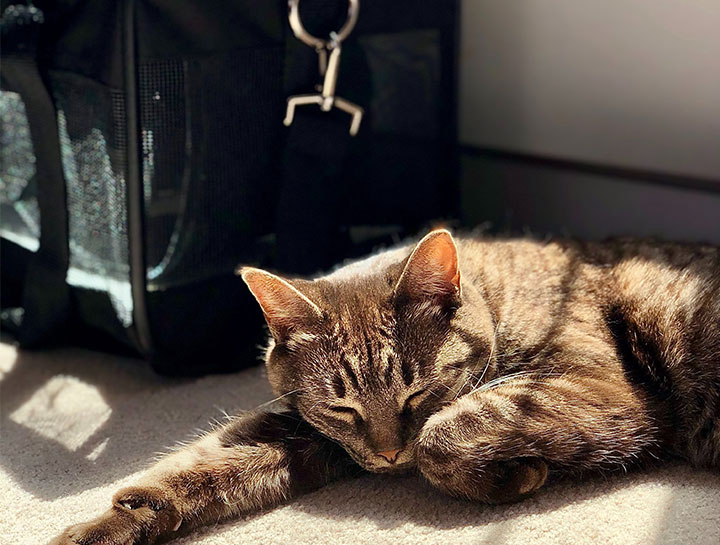 March 16, 2021
Taking your pet on a flight will require a health certificate. A health certificate is a signed document your veterinarian gives you after a full physical examination. This document states your pet is healthy to fly. There are two types of health certificates:
Domestic Health Certificate
Flight destinations within the USA. All of the veterinarians at our hospital are accredited to sign a domestic health certificate. Please call us to schedule an appointment.
International Health Certificate (7001 Form)
Flight destinations to other countries. We have two veterinarians accredited to sign an International Health Certificate. Please schedule your appointment with either Dr. Caitlin Hummel or Dr. Anthony Sprague. Keep in mind, these export documents are time sensitive.
EVERY country has their very own specific requirements at the port of entry.
YOU, AS THE OWNER OF THE PET ARE RESPONSIBLE TO GATHER ALL THE NECESSARY INFORMATION, BRING ANY ADDITIONAL DOCUMENTS AND FINALLY TELL OUR VETERINARIAN WHAT THE COUNTRY REQUIRES.
For more information, contact the consulate of the country you're traveling to.
If flying to Europe, YOU MUST download all necessary European Union forms (EU) from this website: http://www.aphis.usda.gov/regulations/vs/iregs/animals/
Log on to the USDA (animal export) website above.
Choose your country of destination
Scroll down to select your pet's species.
Print these EU forms, bring them along with the most current Rabies Certificate, the address & telephone number of your destination on the day of your appointment.
During your appointment, the veterinarian will perform a physical exam on your pet and fill out both the European Union and International Health Certificate Forms.
Schedule an appointment with the USDA to have all the forms endorsed by them.
The International Health Certificate (7001 Form) and possibly other documents (i.e. EU forms) MUST be endorsed by the USDA. The USDA requires all documents are signed & dated by a veterinarian AND endorsed by the USDA within 10 days of departure. Please schedule your appointments with us AND with the USDA accordingly.
Directions:
USDA APHIS Veterinary Services
Mercer Corporate Park
320 Corporate Blvd.
Robbinsville, New Jersey 08691
Phone (609) 259-5261
Mercer Corporate Park is located off Interstate 195 (I-195), Exit 7 (Rt. 526, Allentown). This is approximately 15 minutes east of Trenton and west of Six Flags Great Adventure.
I-195 may be accessed directly from the NJ Turnpike, Exit 7A; Interstate 295; the Garden State Parkway, Exit 98 and Routes 9, 537 and 539.
From NJ Turnpike:
Take Exit 7A, I-95 to Exit 7. Bear right off ramp and make first left into Mercer Corporate Park onto Corporate Blvd. Proceed to front building where mail boxes are. Walk between park benches. Make first left and second right. You will be in front of our office.
From I-295:
Take I-195 East to Exit 7. Bear right off ramp and make the first left into Mercer Corporate Park. Follow directions above.
From Garden State Parkway:
Take Exit 98, I-195 West to Exit 7 OR
Take Exit for NJ Turnpike South to Exit 7A, I-195 East to Exit 7 OR
Take Atlantic City Expressway to I-295 or NJ Turnpike and follow as above
From Route 9:
Take I-195 West to Exit 7. Bear right off ramp and make first left into Mercer Corporate Park.
Route 130:
Take to Rt. 526 East (Robbinsville-Allentown Rd.). You will go over the I-195 overpass and Mercer Corporate Park will be on the left.